Last April 20th 2020, in full Covid19 emergency, as a team of volunteers from the CERN CMS experiment, we have started the BTN (BetterThanNothing) Mask project, with the goal of production and free distribution of cotton tissue recyclable masks. The BTN masks are made using 2 layers of pure cotton tissue, with an open slot along the bottom to allow a single use filter in the middle, if wishing to increase its filtering performance. Full cellulose 3-layer paper tissue (a simple commercial handkerchief) is provided, securing a good filtering efficiency and breathing comfort. The user can insert any alternative filtering material in between the 2 cotton tissue layers, following the technical specs and suggestions indicated by the French AFNOR authorities.
When removing and replacing the central filter after every single use, it is possible to wash the BTN mask several times without any deterioration of its overall filtering performance.
BTN team members are preparing bags (BTN kit) to be distributed to BTN sewing volunteers. The BTN kit contains basic material (cotton tissue, cotton ear strings, paper filter, plastic bags, nose reinforcement bar) for the production of 60 masks in cotton tissue, using a sewing machine. Tutorial documents with single sewing steps were prepared by the BTN sewing experts and distributed on the Facebook page of the BTN project.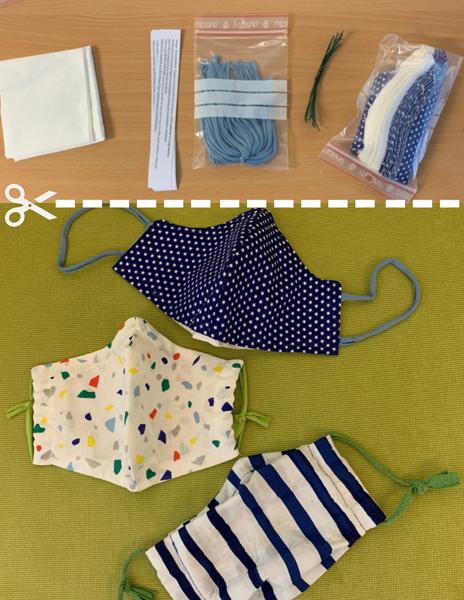 The project started the distribution of BTN kits to sewing volunteers during the last week of April and since that moment the BTN-mask wave has propagated with growing enthusiasm in the Pays de Gex and Geneva region. In less that 3 weeks about 25 sewing volunteers joined the project and in the following weeks, the first 1200 BTN masks were produced, collected and distributed. The number of sewing volunteers has now reached 38 members, most of them working on the second/third BTN kit already, meaning more than additional 2000 BTN masks under production now!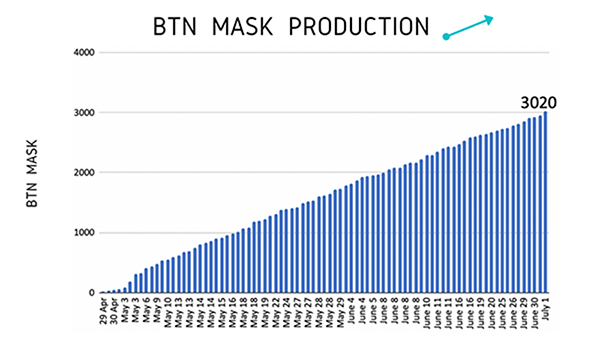 When BTN masks are ready a volunteer from the delivery team collects them from the sewing volunteer and, if requested, drops off additional BTN kits with raw materials for another round of BTN mask production. Mask distribution was performed via local french charity associations, that were immediately getting a very solid interest in donating BTN masks to their end users.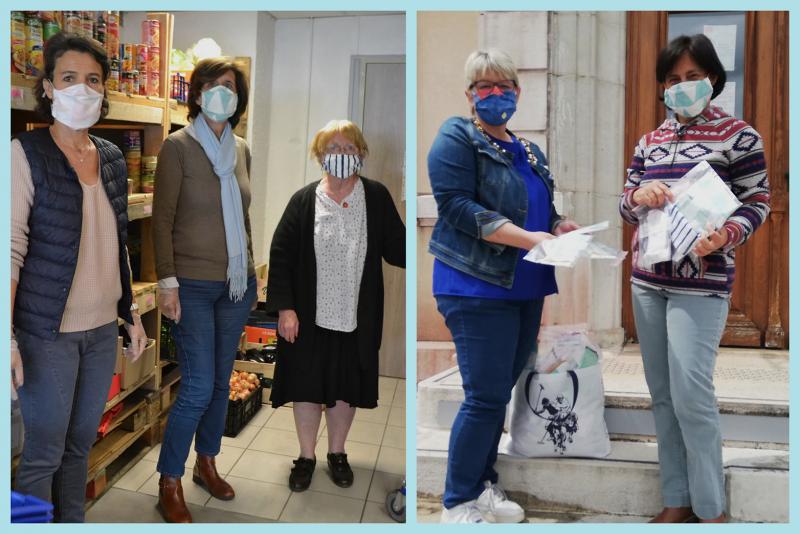 Some local commercial activities (Botanic on French site and some swiss firms wishing to stay anonymous) supported the project with donations of some basic materials.
At present the BTN project has already produced more than 3000 masks in about 9 weeks of full speed production. 2400 of them were distributed to several local charity associations in Pays de Gex (Maison de retraite à Ferney, Restos du Coeur à Gex/Divonne/Saint-Genis/Ferney, Eclat à Gex, Accueil Gessien, CCAS Thoiry, Nous Aussi, La Cimade, Paroisse Gex/Cessy/Divonne/Thoiry).
Last 600 masks were shipped to CMS experiment colleagues in Rio de Janeiro and Mexico City for local distribution.
CALL FOR LOCALS
If you need some masks or if you (or your friends/colleagues) are wishing to join BTN project as sewing volunteer, or just help us with donations, please contact us to mask.btn@gmail.com .
We will be happy to have you on board of this fantastic BTN Journey!
---
The views expressed in CMS blogs are personal views of the author and do not necessarily represent official views of the CMS collaboration.
---